In this week's feature, I interviewed Anna Bance of fashion rental Startup Girl Meets Dress.
Q) Can you tell us the story of how you came up with the idea of Girl Meets Dress?
A) The Girl Meets Dress story began in 2009 when I was working as UK PR Manager for French Luxury brand Hermes – and like my previous roles in the fashion industry, it involved lending the collection of dresses and accessories out on a daily basis to fashion magazines, shoots, celebrities and journalists…I thought to myself "wouldn't it be amazing if we could all borrow dresses for just one event, and wear a different designer for every event in our calendar?"
When my co-founder Xavier and I looked into the market we saw that no one was doing it. We were the first company to rent luxury fashion online and it is wonderful that Girl Meets Dress is now pioneering the way for rental as a new and exciting ecommerce category of its own.
Q) Can you explain your business model in very simple terms?
A) Online luxury fashion rental. Women can hire the hottest designer dresses and accessories for up to 95% off retail price. We have over 4,000 dresses from over 150 international designer brands.
Q) What does your team currently look like?
A) The wonderful thing about an ecommerce company is the exciting variety of team member with extremenly different skills / backgrounds, all working together each day to make our customers happy. Our customer service team is currently the largest section. We also have Marketing, PR, Graphics, Buying, IT, Social media, Content etc. We are growing fast!
Q) How have you funded the business?
A) We have 100% bootstrapped the company, self funding until the summer of 2013 when we raised our first round of investment funding from Global Founders Capital.
Q) How did you get from idea to product, was there much project management involved?
A) We very simply put a basic website live and confirmed demand for our product. Once you know the market potential exists and customers are excited, you can build on that and expand further. The early days are all about testing. My co-founder and I were the only ones involved in setting up Girl Meets Dress. Finding a co-founder with different skill sets to you is a brilliant way to launch without needing to hire a full team on day 1. If you can split the main areas of the business between you, then you can launch with minimal cost and test the product at market.
Q) How much competition is there in your space? How do you stand out?
A) We are lucky as we do not have many competitiors in the online rental market. We have the largest selection of dresses and accessories from 200 designers from over 50 countires, resulting in us becoming the UK's leading luxury rental service. Our relationships with our designers are crucial and the aim is to bring together the best dresses from all over the world – from both UK new talent to worldwide established brands. The mix and varied selection of these designers on one site is what will hopefully mean that every woman visiting will find the perfect dress no matter what her event!
Q) What does your typical customer look like?
A) We are growing at over 100% and our customer demographic is very varied and exciting, ranging from a 14 year old girl off to her school prom, to young professional women who have 5 weddings this summer +various social occasions and need a different fabulous dress to each… to Mothers of the Bride looking for that perfect look on the big day.
Q) What have been your major hurdles when starting up, how have you overcome them?
A) When we started, ensuring we have a full team in place while bootstrapping was no easy feat. We were lucky to find so many hardworking and ambitious staff to stick with us and the vision.
Becoming knowledgeable in so many different areas is challenging but it definitely helps to have 2 co-founders with complimentary and different skill sets. Fulfilment and logistics is an area which has to evolve and improve all the time as the company grows and orders increase. New processes and staff roles have to adapt to demand for the product to maintain efficiency.
Q) What advice would you give to anyone thinking of starting a business?
A) Although not 100% necessary, I recommend choosing an area that you know something about. There are exciting ways to pioneer every market, whichever field you love. Of course, you can learn about any new topic – but will you be able to compete with people with years of knowledge and expertise.
Don't over think it. There will never be a perfect time to leave your secure job, risk your salary decrease, take a chance on an idea which might not work – but what's the worst that can happen? You'll go back to your previous role until you come up with the next idea!
Q) What customer recruitment channels are you using, and which are the most effective in terms of conversion?
A) We have a dedicated team working on our SEO through our blog whilst our CRM Manager deals with our 170,000 newsletter marketing. We've found that both of these, combined with our PR team running regular social media competitions and campaigns, have worked well for us in terms of conversion. When you're a new company the most important and impactful skills to have for converserion is the ability to promote and market the product and brand to get that all important traffic through the doors – PR has been a huge element for us both online and offline.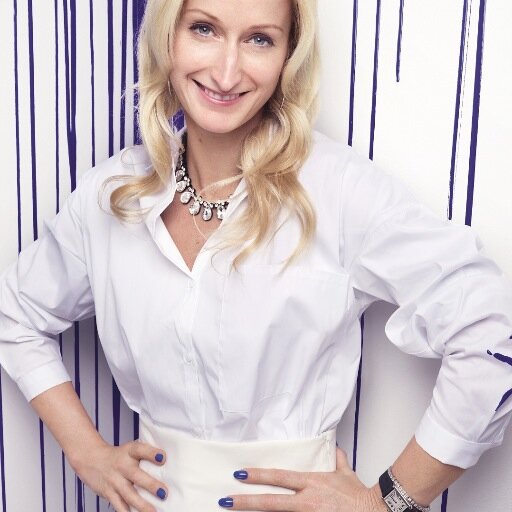 Q) Who inspired you to start the business?
A) There are so many amazing entrepreneurs who are pioneering brilliant and useful business that are making our lives easier and more enjoyable. I love attending business events and networking so I get to know them all. Thea Green has been incredible in her ability to turn Nails Inc into a global brand – the company keeps on getting better and better.
Q) What are your long-term plans for the business?
A) Without giving anything away, Girl Meets Dress is proving the potential to be huge!
 We have ambitious and exciting plans for the year ahead. We want to continue to grow the collection of stock, the team, and to innovate within the wider Fashion space. 
We will continue our leadership of this emerging space and be in a position to wow our customers in every way possible and to forge a brand and quality of service which women will wonder how they managed without, giving women access to the biggest closet in the world!