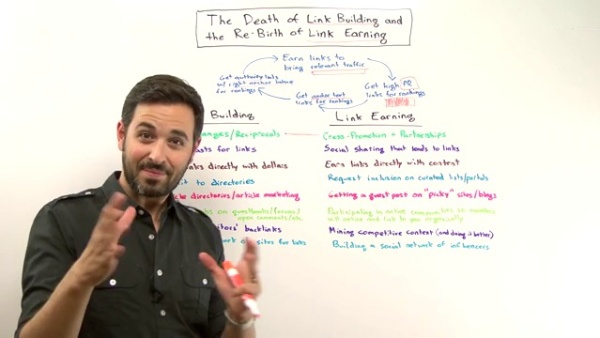 Black, white or grey, whatever hat you wear, here's an A-Z of some of the most common link building tactics and talking points.
Article marketing – Creation of usually low-quality content submitted to article directories for publication and resulting links. Largely killed off by Google Panda update.
Black hat – Term for shady, spammy and automated link building tactics, see 'unethical'
Content – Often overlooked and now key aspect of successful link building. See Quality content.
Directory submissions – Now considered a bit 'old hat' but historically a popular link building tactic. See Yahoo Directory.
Ethical link building – Process of acquiring links by creating quality, viral content. See white hat.
Forum commenting – Acquiring links from forum comments and the footer of forum profiles. Considered by some to be a 'black hat' tactic.
Guest blogging  – Writing a post on another person's blog in a guest capacity. Usually posts include a link or two. See outreach.
Hidden links – Also known as 'cloaking', black hat technique usually involving links that are hidden from the browser's view but crawlable by Google.
Infographics – Data and insights presented in visually-appealing graphics designed to attract links and brand awareness. See viral.
JC Penney – Naughty US retailer caught up in 2011 black hat linking scandal.
Keywords – Targeted term which is usually anchored to a URL. Recently it has become important to diversify these terms to avoid Google's 'exact match' linking penalties.
Linkbait – Now outdated term for content that naturally attracts links. See viral.
Matt Cutts  – Head of Google webspam team, oracle on all things SEO and link building.
'Nofollow'  – HTML attribute, used by webmasters to prevent Google spiders from following, and hence passing Page Rank to.
Outreach  – The process of reaching out to bloggers and offering some form of exclusive content in exchange for links. Usually more successful if products or payment offered in exchange for links.
Panda & Penguin – Google updates which killed off article marketing and low quality content.
Quality content – Increasingly important following recent Google updates.
Rand Fishkin – SEOmoz founder and fountain of knowledge on content and link building.
Social media – Signals such as Tweets and 'Likes' that play an ever more important part of Google's algorithm.
Teliad – German-based platform for procurement of SEO and Linkbuilding services, primarily text links and blog posting. Kind sponsors of this post*
Unethical – Link building practices deemed to be shady or underhanded. See 'Black hat'.
Viral – Content that attracts attention and is easily shared, attracting links.
White hat – Term for link building practices considered 'ethical'.
Xenophobia – Experienced by some SEOs due to shady tactics employed by 'black hat' link builders.
Yahoo! Directory – Inclusion here once the cornerstone of any successful SEO campaign. See directory submissions.
Zillions – Number of links Google crawls every day.
*This post was sponsored by www.teliad.com and before anyone points it out, yes I am aware of the irony of this 😉